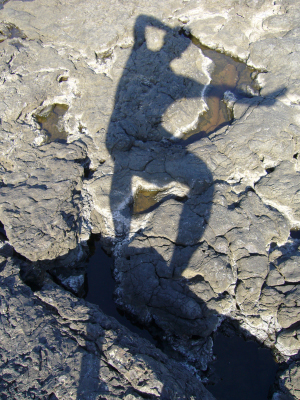 Humanlike rock paintings of unknown origin discovered close to Mount Etna. Most of the up to 9m high pictures are in good condition. Mysteriously they can not be seen from planes or satelites. The finder Mr C.Graupner didn't give any comment concerning circumstances and exact location of his discovery. However it is veryfied that the Berlin based media artist Graupner stayed arround the area of Mount Etna / Sicily in the eligible period of time working on his new media installation 'MindBox'.
Experts are speculating wether the remains of a sea dweller (lower right picture) recently found close to the spectacular rock images is related to the discovery.
Experten rätseln: Menschenähnliche Felsmalereien unbekannter Herkunft am Fuss des Ätna entdeckt. Die bis zu 9m grossen zumeist gut erhaltenen Darstellungen sind mysteriöserweise aus der Luft nicht sichtbar. Der Entdecker C.Graupner hält sich bzgl. des genauen Fundorts bedeckt. Jedoch wurde bekannt, dass der Berliner Medienkünstler Graupner sich in der fraglichen Zeit nahe des Ätna in Sizilien zu Dreharbeiten seines Projekts 'MindBox' aufhielt.
Die unsterblichen Überreste eines Meeresbewohners, (Foto unten, rechts ) die nicht unweit von den spektakulären Darstellungen entdeckt wurden, scheinen nicht im unmittelbaren Zusammenhang mit dem Fund zu stehen.